How to Reinstall Webmail
2013/08/27 13:56
It is very easy to reinstall Webmail, but the premise is that whether the "Default Web Site" in IIS is running or not.
The steps are as follows.
1) On the menu bar of AAMail main interface, click the "Tool -> Reinstall Webmail".
2) In the pop up "Reinstall Webmail" dialog box, click the "Yes" button, then it will install Webmail automatically (Figure 1-1).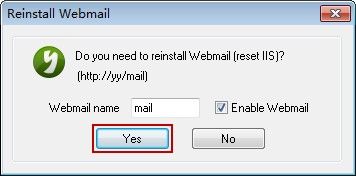 Figure 1-1
You can enable or disable Webmail, and modify Webmail's virtual directory name here.
If you can't install Webmail via the above method, please refer to "What If Mail Virtual Directory was Mistakenly Deleted".
Enable Webmail: Whether to enable Webmail.
Webmail name: The default Webmail directory name will be "mail". For example, the Webmail address is "http://localhost/mail".
Related: