Powerful Email Monitoring Softwre - Monitoring Employee Emails!
Monitor outoing mails, or icoming mails or both of them.
Support only monitor external incoming or outgoing mails.
Monitor specified accounts, or entire domain, or all accounts.
Allow multi supervisors to monitor one account at the same time.
There is only 1 copy when multi supervisors monitor the same one mail.
Support mamage monitoring mails (read, search, delete) on Webmail.
Allow retrieve monitoring mails to Outlook or other mail clients.
Many companies want to monitor employee emails. One reason of that is to avoid confident materials being illegally delivered out. Another case that employee email monitoring is very desired and useful is Email Archiving, which is to keep intercourse history of a communication process. If you have monitored employee emails, then you will not worry about employee resignation. Because you have a whole backup on their email communication and then it will not impact your business.
AA Mail Server is a powerful
email monitoring software
and has provided easy-to-use employee email monitoring solution for monitoring employee emails. All users and all emails on AA Mail Server can be monitored or archived. You can create more than one supervisor accounts in this email monitoring software. AA Mail Server can allow you specify to monitor incoming mails only or monitor outgoing mails only or monitor both of them. Also in this email monitoring software you can specify monitoring scope to be Specify, entire domain or entire server.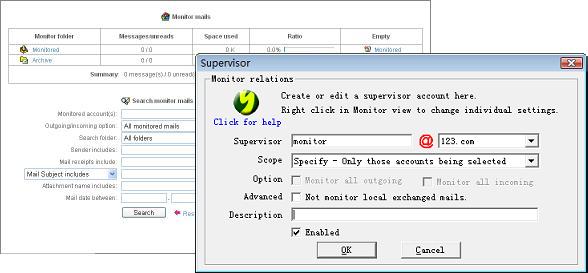 How to monitoring mails in AA Mail Server?
When a target mail of one employee has been monitored in AA Mail Server, a copy of the target mail will be created as monitoring copy. AA Mail Server stores monitoring copies in the employee's individual monitoring space. Multi supervisors will share the same one copy when monitoring the same target mail.
Supervisors can retrieve their monitoring emails down to Outlook Express or read monitoring emails via Webmail. AA Mail Server Webmail provides powerful sort, search and summary functions for email monitoring. You can also create user-defined archive folder to classify important mails. You can easily use email monitoring as email archiving.
How to setup a monitoring relation?
1. Select "Monitor => Create supervisor" menu command in AA Mail Server, enter an existing account to become supervisor. Here you can specify monitoring scope:
Specify: Monitoring emails of those accounts being selected only;

Entire domain: Monitoring emails of those accounts within the same domain;

Entire server: Monitoring emails of all accounts on your server.

2. Click "OK" and return monitor view, which show monitoring relation for you. WYou can select those accounts in list, and right-click them to open shortcut menu. You can switch "Monitoring outoing mails" and "Monitoring incoming mails" for those accounts.