AA Mail Server - Effective Anti-spam Solution
Multi-RBLs Lookup and Diagnose
White/black Domain/Address List
White/black IP Address List
Reject or Add [SPAM] Tag for Webmail Subject
Domain and Account Level Auto Filtering
Junk mails is a headache worldwide, and there are not 100% effective anti spam solution so far. AA Mail Server has been continuously improved its anti-spam ability. Many technologies have ever been tried and used, such as Domain MX-lookup, Spam Assassin analysis etc. Now anti-spam multi-RBLs block lists check has been seleted by AA Mail Server as the major anti-spam technology. This technology offers an accurate spam protecttion and has been approved effective by our customers.
Click "Settings->Diagnose RBLs" menu command, you can lookup whether your server IP has been listed in some RBL block list. Click "Settings->Anti-spam settings" menu command, you can enable anti-spam function, create white/black lists of IP address or domain/email, maintain your RBL list and choose how to deal with junk mails: Add [SPAM] tag on Webmail subject or Reject this mail directly in SMTP during SMTP process.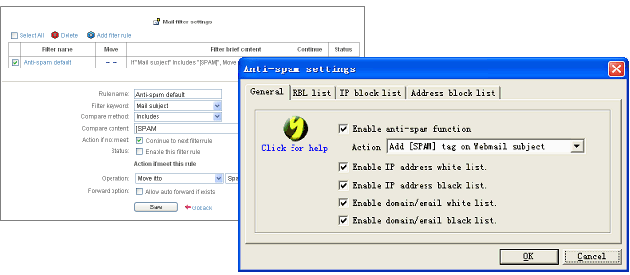 White and black list of IP address and domain/email are also provided to enhance spam protection. You can add domains, email addresses and IP addresses to white/black list. Wildcard "*" can be used in IP address, e.g. "123.*.456.*". When a mail from white list, spam check will be skipped; when a mail from black list, this mail will be identified as spam directly.
Only external incoming mails will be spam checked. A default anti-spam filter rule has been created for each user. Users can enable and modify this rule via Webmail, then junk mails could be auto moved into Spam folder and even deleted directly. Only mails in Inbox folder can be retrieved by Outlook, so that bulk mails will be kept in Spam/Trash folder. Trash/Spam folders can be auto cleaned after specified days.