Tool Menu
2013/08/28 12:16
On the menu bar, click the "Tool" button, then you can see the functions of Go to IIS, Reset Windows IIS, Visit Webmai, Reinstall Webmail, Advanced SQL Execute, Compact database, Diagnose wizard, Diagnose sending, Diagnose RBL, Diagnose MX (Figure 1-1).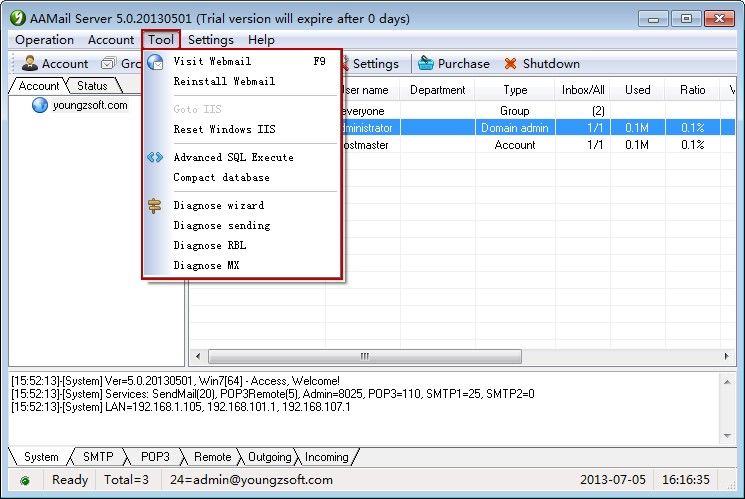 Figure 1-1
Go to IIS: Go to IIS interface (if the OS is different, so is the IIS), and it is convenient to manage the Webmail sites.
Reset Windows IIS: Reset Windows IIS, which equals to execute iisreset command under the administrator permission's command line window.
Visit Webmail: Click it to open the browser, and enter the "Webmail Login Interface".
Reinstall Webmail: Enable or disable Webmail, reset the virtual directory's name, and select different "Webmail Login Mode".
Advanced SQL Execute: Supported by AAMail technology, with this function, you can do some advanced operations to the database directly.
Compact database: Specially applied to Access database. By compacting Access database regularly, the Access database can keep running stably.
Diagnose wizard: Including diagnose MX, sending mails, international RBL and form a diagnose report. For details, please refer to "Diagnose Function".
Diagnose sending: Supports diagnosing sending mails, and it will display the details of SMTP interaction log records, which is convenient to target the sending problems.
Diagnose RBL: Supports diagnosing whether the server or specified IP address has been listed on RBL.
Diagnose MX: Open the online diagnose website of MX records on http://www.aamailsoft.com/mx.php, and detect the MX records settings.
Related: